"Did you receive the memo?"



This article is considered as a Stub. You can help us by expanding it until all the information is added!

Extras
Jolly 1
soon
Jolly 2
Soon
Jolly 3: chapter 1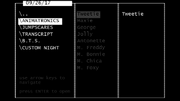 The Jolly 3: Chapter 1's Extras has transcripts, jumpscares, animatronics, B.T.S and Custom night. The difference between the other Jolly games and Jolly 3: Chapter 1 is that Jolly 3 has a Transcript and Custom Night and It is formed exactly similar to a file opener.
Jolly 3: chapter 2
soon
Jollibee's
soon
jollibee's phase 2
soon
trivia
soon
gallery